Azores Sightseeing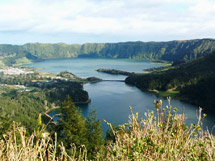 Nature Trails
Lagoa das Sete Cidades, a beautiful hour glass green and blue body of water known as a caldera northwest of Ponta Delgada. It is storied with myths and legends.
Lagoa das Furnas, an active caldera with steam vents, mud pots and geysers, locals cook food in earth ovens available in picnic areas.
Lagoa da Fogo (Fire Like) is a beautiful caldera lake high up in the mountain and know for it's dramatic views and white sand beach.
At Faial Island see Horta Harbour where all sail boat stop, Faial Caldera and Capelinhos volcano Pico Vulcano São Jorge green mountains and cows that produces the famous S. Jorge cheese.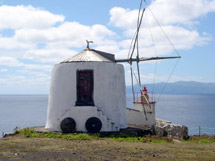 Corvo
Visit the vineyards. There are many throughout the small island but each one is slightly different. If it is the right time of the year see if there is a running of the Bulls, a traditional activity done every year in which people line the streets and watch locals who are brave enough take on a bull to see if they can outrun or get close enough to touch its horns. Be Careful though, if you want to watch make sure you are sitting on a high wall or standing behind something the bull will not beable to knock down if they charge at it. People have been known to be severly injured at these events.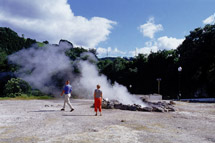 São Miguel
São Miguel has several calderas, and hot springs can be found scattered over the island; mostly in the middle highlands.
In the west there is a caldera and volcano crater that is almost filled by the beautiful Sete Cidades twin lakes and the town of Sete Cidades. Steep mountain walls surrounds the lakes, one is azure blue, the other is greyish, and this is explained in a local myth.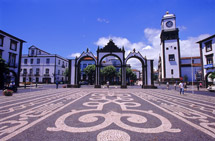 Ponta Delgada
This is the capital and location of the main airport (João Paulo II), as well as the main economic center of the island. The historic center and most tourist attractions are located along the Avenida Infante D. Henrique which extends from the fort of São Brás in the southwest of the city to Clube Naval and the southeast Marina, and includes Campo de San Fransisco, the Matriz, the "Portas da Cidade" (the City Gates) and the new "Portas do Mar" development.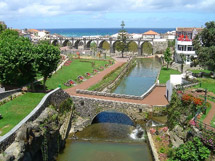 Ribeira Grande
The second largest city on São Miguel is the gateway to the north and 20 minutes away from Ponta Delgada. It is known for its beautiful historic center and the northern beaches known for windsurfing, as well as being one of better access points to Lagoa do Fogo crater lake.